Annual Holiday Care Package Collection for our deployed service men & women
Every November, from the help of our members, we collect thousands of items that help the Blue Star Mothers send out boxes to men and women who are overseas and away from their loved ones during Christmas.
As a THANK YOU for your donation, you will be entered to WIN $100 CASH every time you bring in an item or donate $5 or more!! Drawing will be held on December 13th.
---
DONATE (Monetary or items)
All 4 GCFCU locations proudly open our doors to members and non-members who would like to donate to this awesome collection!
Last day to donate to Blue Star Mothers:
Dunkirk and Mayville = Thursday (12/1)
Falconer and Jamestown = Friday (12/2)
LET US DO THE SHOPPING FOR YOU! We look for great deals and items in bulk to get the most out of all donated money!
HERE IS A HELPFUL LIST IF YOU PREFER TO DONATE ITEMS IN NEED. We also have printed lists available in our offices.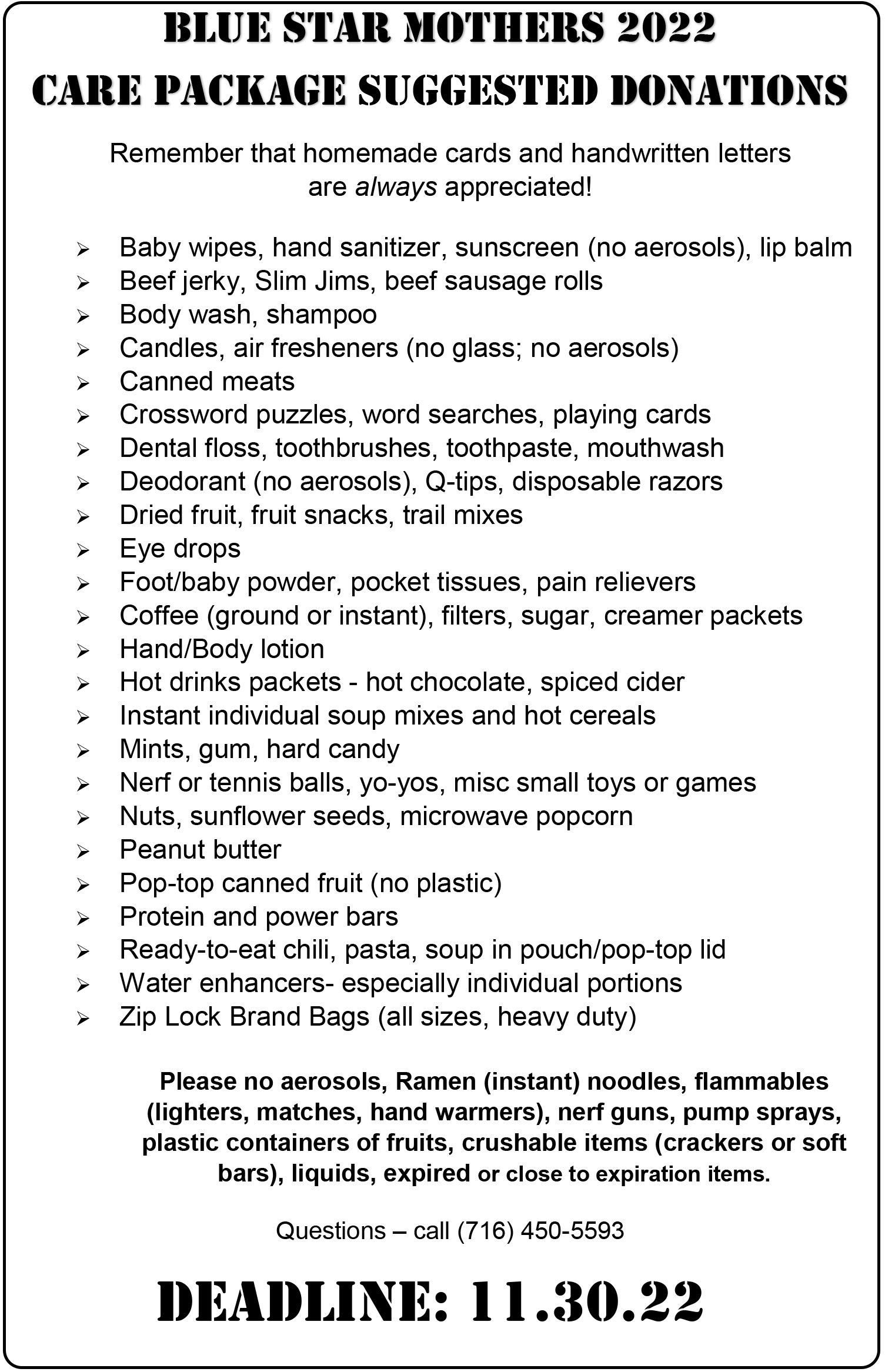 ---
volunteer
Join us at the Fluvanna Community Church (3363 Fluvanna Ave in Jamestown) on Saturday, December 3rd starting at 9:00am if you would like to help package the boxes being shipped out. COME ONE, COME ALL!!
---
DEPLOYED LOVED ONE
If you have a loved one who will be deployed during the Holidays this year and would like a Care Package sent to them, contact the Blue Star Mothers
---
{beginAccordion}
Holiday Care Packages Distributed:
2022 = 800
2021 = 831
2020 = 664
2019 = 900+
2018 = 1,000+
{endAccordion}